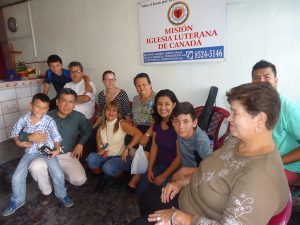 Thursday, May 24, 2018
After more than a decade of Gospel outreach, Lutheran Church Canada work in Costa Rica has been suspended Lutheran Church–Canada (LCC) missionaries, Pastor Edmundo Retana and his wife Deaconess Betty Solórzano Cevallos have announced that they are resigning from the mission in Costa Rica, citing personal and family reasons. With their resignations, there are no LCC or Iglesia Luterana-Sínodo de Nicaragua (ILSN) workers in Costa Rica. In his letter of resignation, Rev. Retana stated, "I am grateful to our Lord for allowing me to serve him for all these years. And to you, ...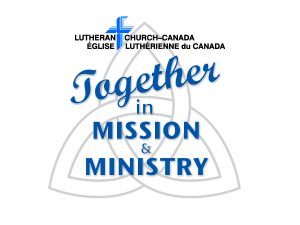 Tuesday, May 22, 2018
The Board of Directors of Lutheran Church-Canada (LCC) approved two recommendations from its Restructuring Working Group during its April 26th meeting regarding the election of lay members to the Regional Mission and Ministry Councils (RMMC) and the effective date of office. LCC's Commission on Nominations and Elections (CNE), elected in October 2017, oversees the nomination and election of Regional Pastors, Circuit Councillors and lay members of the RMMCs. Earlier this year the CNE requested that congregations provide the names of nominees for all regional positions. This process is underway and nominations ...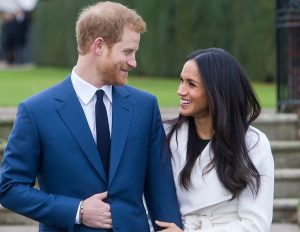 Thursday, May 17, 2018
The Rites of the Church: Superstition or Faithful Reception? By Michael Keith Meghan Markle will marry Prince Harry on May 19. In preparation for her wedding there was planning for all the normal details: dress designed, cakes ordered, itineraries checked and double checked. There was also a baptism and a confirmation on the pre-wedding "to-do" list. Ms. Markle is reported to have said she was being baptized and confirmed in the Church of England as a sign of respect for the Queen. There is no reason to doubt the integrity of Ms. ...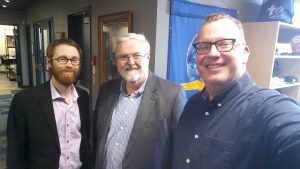 Monday, May 14, 2018
The LCC Board of Directors is pleased to announce the hiring of Christopher Pelletier as Director of Communications. As Assistant to the President for Communications, he will provide leadership and guidance in the ever-changing communication landscape. Pelletier is responsible for effective communication to LCC's constituencies in all media. Born and raised in Cobourg, Ontario, Pelletier has been involved in the field of media and communications for more than 20 years. Prior to relocating to Winnipeg in the fall of 2016, Chris was the owner and operator of a news and information ...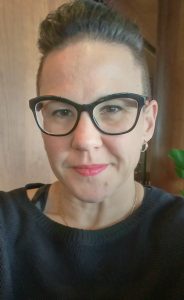 Tuesday, May 8, 2018
KITCHENER, Ont. — The Board of Directors of Lutheran Laymen's League of Canada (LLLC) is pleased to announce that Lisa Jackson of Waterloo, Ontario will serve as the organization's new Managing Director. Ms. Jackson is a member of Redeemer Lutheran Church in Waterloo where she has organized numerous mission trips to Nicaragua to assist congregations of Lutheran Church Synod of Nicaragua. She succeeds Stephen Klinck who served the LLLC for more than 30 years and is retiring. "Lisa brings to our organization her management and leadership skills plus an enthusiasm and ...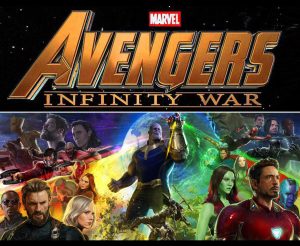 Monday, May 7, 2018
WARNING! SPOILERS! Fasten your seatbelts, there's a lot going on! by Ted Giese As Nick Fury (Samuel L. Jackson) assembled the Avengers to protect the world from dangers an average person couldn't defeat; as orphaned Peter Quill / Star-Lord (Chris Pratt) inadvertently formed his unpredictably predictable ragtag Guardians of the Galaxy; as superheroes of every variety originating in the MARVEL cinematic universe fought a rogues gallery of villains, something lurked in the shadows and grew in strength and power—a super villain: The Mad Titan, Thanos (Josh Brolin). First introduced as Loki's (Tom Hiddleston) puppet ...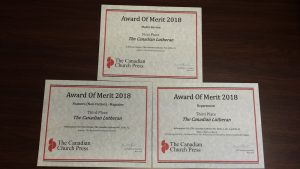 Monday, May 7, 2018
HAMILTON, Ont. — At its annual Awards Banquet, Friday, May 4, the Canadian Church Press (CCP) presented three Awards of Merit to The Canadian Lutheran, the magazine of Lutheran Church–Canada. A movie review of "Silence" written by Rev. Ted Giese received a first-place award. In his remarks on the article, the judge called it "An impressive review, that would be fully acceptable in any secular, major, publication." A series of three articles on the Reformation 500 theme authored by Mathew Block , Rev. Dr. Edward Kettner, and Kelly Klages was awarded third ...